Japanese Cabinet minister visits controversial shrine to war dead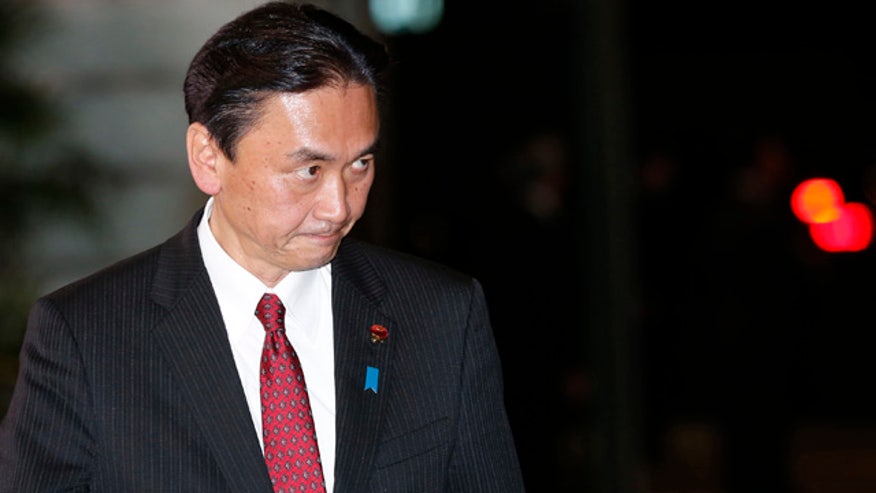 A Japanese Cabinet minister on Sunday visited a Tokyo shrine that honors the dead, including war criminals, a gesture that has repeatedly caused friction with Japan's neighbors.
Lawmaker Keiji Furuya, who chairs the National Public Safety Commission, said on his website that he paid respects Sunday morning at the Yasukuni shrine ahead of a festival that starts Monday.
"I believe that to honor those dead who gave up their lives for our country is the right thing for a Japanese to do," he said.
He said he regularly visits Yasukuni at spring and autumn festivals, and on Aug. 15 –the day Japan surrendered in 1945. He chose to go over the weekend because he had duties to attend to during the week.
Officials' visits to Yasukuni have infuriated China and both Koreas. The 2.5 million Japanese war dead enshrined there include 14 class A war criminals from World War II — national leaders who were either executed, died in prison or during their trials.
This year's April 21-23 spring festival at Yasukuni partially overlaps with President Barack Obama's trip to Japan, part of an Asian tour that also includes South Korea, the Philippines and Malaysia. Japan colonized Korea, and during World War II also brutally occupied parts of China and other countries.
Obama in late March helped to bring together Prime Minister Shinzo Abe and South Korean President Park Geun-hye to sit down for a face-to-face meeting for the first time since they took office more than a year ago. The absence of such a meeting between the leaders of key U.S. allies in Asia was a deep concern for Washington.
Internal Minister Yoshitaka Shindo prayed at Yasukuni earlier this month. Abe, who has expressed his desire to see Japan expand its role in regional defense, has regularly visited Yasukuni, but he made a visit as prime minister only once, in December.
Some Japanese politicians who visit the shrine argue they are not advocating war but are making a pacific statement by trying to remember those who died and suffered in war.
Source Article from http://www.foxnews.com/world/2014/04/20/japanese-cabinet-minister-visits-controversial-shrine-to-war-dead/
Japanese Cabinet minister visits controversial shrine to war dead
http://www.foxnews.com/world/2014/04/20/japanese-cabinet-minister-visits-controversial-shrine-to-war-dead/
http://news.search.yahoo.com/news/rss?p=Japanese%20Class
Japanese Class – Yahoo News Search Results
Japanese Class – Yahoo News Search Results